Project Name: The Establishment of the Central Agricultural Commodities Market, Chantaburi Province
Firm Name: TEAM Consulting Engineering and Management Co., Ltd.
Associate Firms: SQ Architects and Planners Co., Ltd.
ASDECON Corporation Co., Ltd.
Location: Chantaburi Province, Thailand
Project Owner: Chantaburi Province, financed by the Department of Internal Trade, Ministry of Commerce
Type of Project: Urban development
Value of Project: 549 million Baht
Project Period: September 2006 – March 2007
Project Description:
Chantaburi Province is designated to spearhead the development of the cluster of eastern coast provinces - Chantaburi, Rayong and Trad - in the agricultural sector. Each year, these provinces produce a plethora of agricultural products in the market. However, the distribution of these products is arranged either individually, or through middlemen, and lacks the proper method of products categorization and quality control. This results in the disadvantages of the farmers.
The Central Agricultural Commodities Market, which will be situated on 270 rai of public land in Wang Tanote Subdistrict, Na-yai-arm District, Chantaburi Province, is expected to be a solution of these problems. It will provide a one-stop services for the farmers and their clients with fair management.
According to the Cabinet's resolution of 2 August 2005, the project components cover the following works:
Survey and design of the Central Agricultural Commodities Market and facilities
Logistics study
Management, financial and marketing studies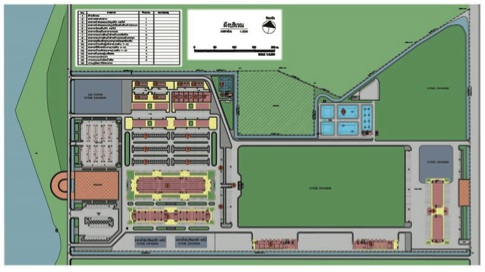 Scope of works provided by the Consultant covers the followings:
Study and design the buildings and infrastructure systems of the Central Agricultural Commodities Market including the market building, distribution building with belt conveyor, cold storage building, office building, residents for executives, staff and labours, and visitors' apartment.
Prepare the bill of quantities, construction cost estimation, construction work plan, tender documents, and construction contract.
Propose the guidelines of service rate and renting rate; private sector investment, and all necessary measures to provide equal benefit to all stakeholders.
Estimate the investment and the return on investment.
Propose the appropriate management, finance and market administration schemes.