Project Name: Hamad Medical City
Consultant: Consultants of Technology Co., Ltd. (COT)
Location: Doha, Qatar
Owner: Building and Engineering Department, Qatar
Description: As a Medical Center occupying the area of 200 rais (35 ha), it is equipped with facilities and housing over 44 buildings i.e. hospitals, nurse hostel buildings, married staff housing buildings, education center, ministry of public health, nurse club, Central Energy Plant (CEP), underpasses as well as other infrastructuresystems. The project was initiated for organizing 15th Asian Gamesin 2006. After which it is modified to be Hamad Medical City.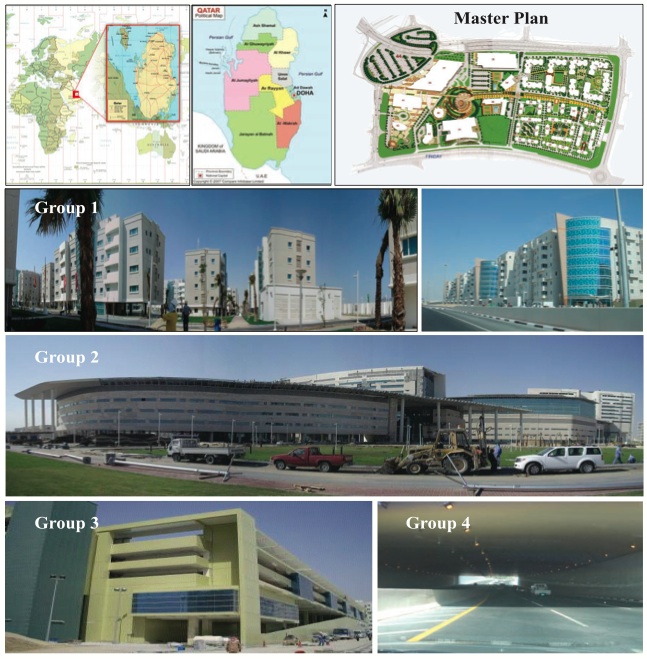 Construction Cost: 20,300 Million Baht (580 Million $US) (1 $US : 35 Baht )
Design Period: October 2002 – June 2004
Supervision Period: Up to December 2008
COT Engagement: COT involved in 4 groups of work.
Group 1: Architectural and Overall Engineering Design (Structural, Mechanical, Electrical and Sanitary Engineering) for Housing: in total area of 93 rais (14.9 ha). There are 32 buildings with total usable area of 240,000 m2 including :
9 nurse hostel buildings consisted of five 8-storey buildings and four 9-storey buildings. There are totally 650 rooms, 180 m2 each with total usable area of 170,000 m2.
23 married staff housing buildings with 5 storey each. There are 2 building types with total usable area of 70,000 m2. Precast-concrete panel/post-tensioning floor system is applied to all buildings.
Group 2: Structural Design for all other Buildings : All building are constructed using prefabrication technology and post-tensioning floor system including 3 hospitals, education center, ministry of public health, nurse club, Central Energy Plant (CEP).
Group 3: Infrastructural Design and Central Energy Plant (CEP) :
Infrastructural works comprised of road networks in HMC, piping systems for rain water and waste water drainage, electricity, water supply, telephone, fire hose, cooling water pipe (district cooling system), irrigation system and all miscellaneous exterior works related to the project.
Central Energy Plant (CEP) with usable area of 48,000 m2. It is 5-storey building and 1-storey underground and is designed as an energy distribution center i.e. electricity, telephone, computer, water supply, cooling system and other control systems supplying to all buildings located in Hamad Medical City. Construction cost of Central Energy Plant and infrastructural works is 2,000 million Baht. (57.1 Million $US)
Group 4: Underpass Design: The Hamad Medical City Main Underpass is a large 6-lane concrete arterial road underpass with 700 meter long. It is serving a heavy traffic of the C-ring road which carry more than 30,000 average daily traffic (ADT) in 2005 on each direction, in-bound and out-bound. The underpass system features dominantly an integrated geometric design of the underpass itself in conjunction with the oval ring road provided with a grade separation small 2-lane one-way reinforced concrete underpass tunnel, and underground parking of the HMC.
The structure of the underpass dominates others on provision of a wider span superstructure of the total 6-lane width which is more than 30 meter wide. Composite wall is designed to function for both the underpass and attaching underground parking of the HMC. Construction cost of the HMC underpass is 1,000 million Baht. (28.6 Million $US)