Project Name: His Majestic the King's 80th Birthday Anniversary Stadium 5th December 2007
Consultants: Plan Consultants Co.,Ltd.
Project Owner: Sport Authority of Thailand
Location: Pukthongchai, Nakornratchasima Province, Thailand
Building Type: Sport Complex
Project Area: 579 Rai 173 Wah
Building Designer:
Architect - Plan Associate Co.,Ltd.
Civil Engineer - Arun Chaiseri Consulting Engineers Co.,Ltd.
Electrical Engineer - Plan Engineering Co.,Ltd.
Mechanical Engineer - Plan Engineering Co.,Ltd.
Sanitary Engineer - Plan Engineering Co.,Ltd.
Landscape Architect - Frame Architect Co.,Ltd.
Contractor : Italian Thai Development PCL.
Construction Cost: 2,086,767,200.00 Baht.
Project Duration: 28 March 2005 – 16 July 2007
Profile of Project:
Nakornratchasima Sport Complex was built to be provided for sport activities and recreation for the North-Eastern region of Thailand and finally be chosen as the main sport complex for
the 24th SEAGAME. The Sport Complex located at Takerngphol Reservoir Pakthongchai Nakornratchasima Province, on area 579 Rai 173 wah.
The details of sport building and supporting building are as follow: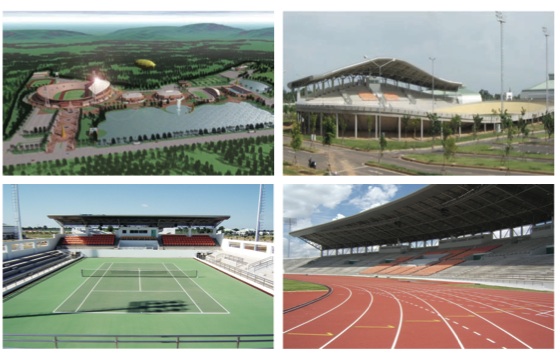 Main stadium 20,000 seats.
Practice field and track.
Swimming Pool (with Warming up Pool) and Diving Pool.
Indoor Stadium 5,000 seats.
Indoor Stadium 2,000 seats.
Velodrome.
Shooting Range.
Lawn Tennis 9 courts.
Tennis Centre Court.
Sport domestry 200 beds.
Staffes' office.
Staffes' residence.
Park, Recreation area and Parking lots.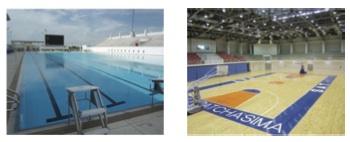 The project construction work started on 28 March 2005 and finished by 16 July 2007, was named by The King as " His Majestic the King's 80th Birthday Anniversary Stadium 5th December 2007 " and met the purpose as the main sport complex for the 24th SEAGAME.
Outstanding of the Project in consulting part:
Heavy steel roof truss (Main Stadium) with 35.00 m. cantilever.
Prestressed RC beacher seats (Main Stadium)
Co-ordinating with concerned sport associations for the update data, material and dimension to conform the international sport standard code.
Inspect and control construction works to ensure the quality and correctiveness of
The smooth surface of football field, tennis court and bicycle track.
The thickness and smooth surface of synthetic track for Atletic.
Lamination and sound system of football field and arena in Indoor Stadium.
The corrective dimension of each sport arena.
All the above – mentioned matters had to be certified that it is qualified to be used for sport competitions by the representative of The Sport Associations.