Project Name: Sila Evason Hideaway & Spa at Samui
Consultant: Building Construction Management Co, Ltd.
Service Activity:
Project Consultation & Construction Supervision
Q.S & Cost Control thorough Construction Project
Associated Firm: Structural , Architectural , M&E Detail Design Metric Co.,Ltd.
Contractor:
Glory Construction Co.,Ltd. —Building Works
Secco Co.,Ltd. —M&E Works
Project Owner: Samui Laem Samrong Co.,Ltd.
Location: Koh Samui ,Suratthani, Thailand
Construction Area: 16,551 Sq.m.
Land Area: 43 Rai
Construction Cost: 350 Millions Baht (At the time being)
Construction Period: 2003 - 2004
Project Description: Sila Evason Hideaway & Spa at Samui, situated on the Northern of Samui Island, is the international standard luxury in 43 rai and comprises 66 uniquely designed villas with split-level interior and 52 pool villas & pool villa suites included their own private infinity edge swimming pool.
All villas have private garden, sundeck and outdoor shower with bathtub. The full function facilities provided in supreme class e.g. Spa, restaurant, pool and water sport center.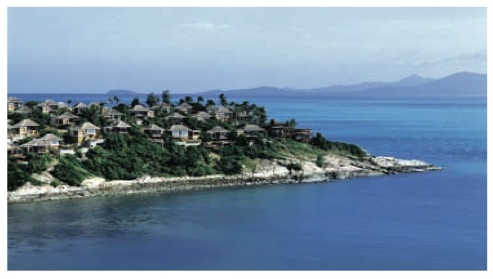 Interested Point of Discussion:
1. Foundation Problem. Since the project is a resort hotel all building are a series separated small villa type. Footing on existing compacted soil is designed to support the structure. However, more than 50% of the project site (about 40 Rai) is covered by big boulder & varying depth stone.
Most of the cases are impossible to be removed by normal construction machines/ equipments. Finally, Rock Demolition Machine (imported from Germany) is the key-point to solve the problem by breaking all unwanted stone into small pieces and removes.
The Dasda, demolition machine working by hydraulic principle and can be breaking all stone up to 1.5 m. in diameter stone without much problem, this bring a successful key to solve the foundation problem.
2. Water shortage Problem. Samui have been continuously developed with high rate of construction growth of the last 10 years. Public water supply, at the time, is seriously shortage. To minimize the shortage and ensure to provide sufficient amount of water for hotel guests during high season. The management have decided to install the hotel's own Desaltlination plant with the production capacity of 140 m3/day. However, to bring in clear-clean sea water from seaside is a sophisticated problem involves quite a member of regulations from the Harbour Department. Although, finally have been solved.
Case of fresh water from Desaltlination still higher compare to water from the municipality. Therefore, Desaltlination Plant is normally operated during high season only, and not for normally supply.
3. Bamboo Stick. The project has employed quite a big amount of Bamboo stick to construction as villa parapet. Fencing and wall, many decorated area. The treatment of bamboo to prolong its servicing life span is urgently required.
Pressure treatment with CBA (Carbon Boron Arsenic) solution up to 80 – 100 psi and maintained continuous uniform pressure for 2-3 hours during the process. After treated, all bamboo may prolong servicing life from normally about 2-3 years to 5-6 years. The Resort has been operated since August 2004 90% of the bamboo stick still in used.